Jet-Age Pilgrims On A Small Planet
Jet-Age Pilgrims On A Small Planet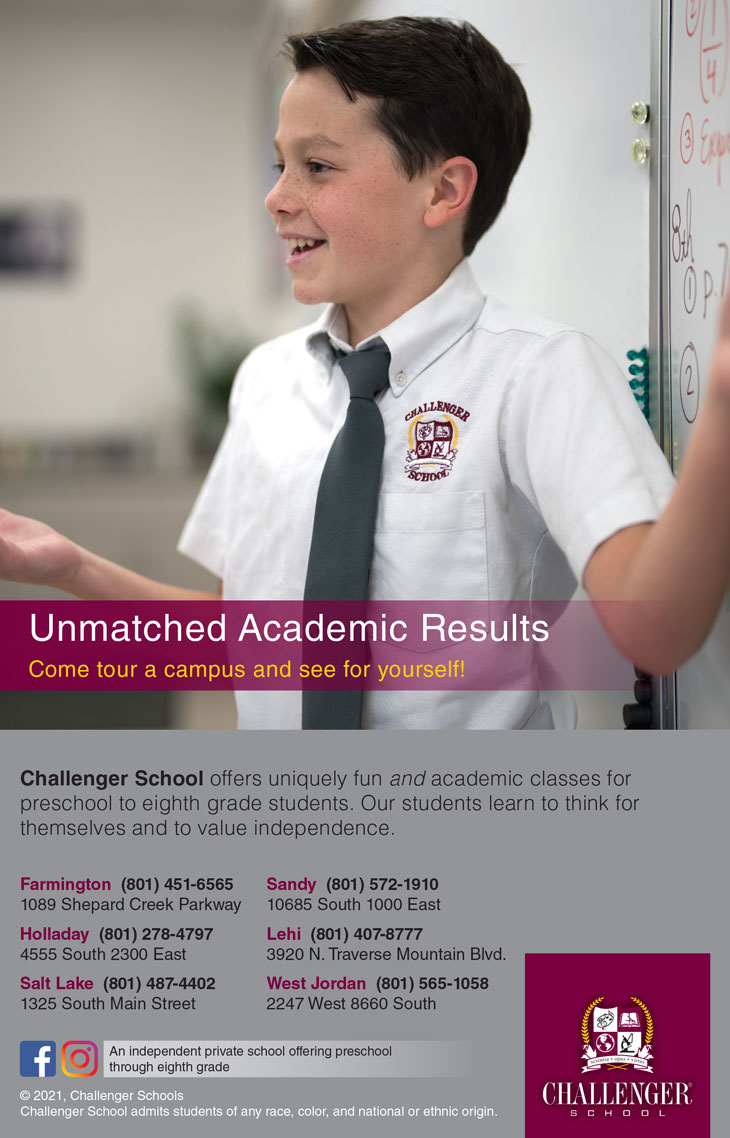 ---
By Michael Clive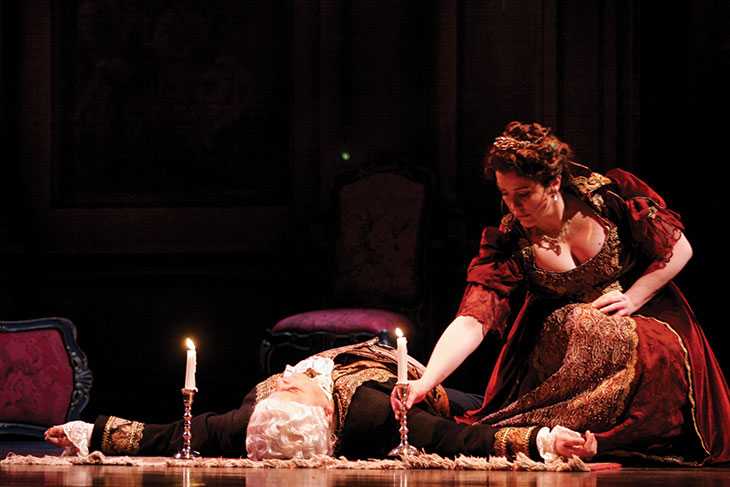 Photo by Kent Miles, Utah Opera 2008
Few operas can match the sheer pace and momentum of Tosca. It opens with an ascending progression of three ominous, fortissimo chords that are the motif of the villainous Baron Scarpia, the Roman chief of police. With those three chords, we are pitched headlong into Scarpia's web of power, and into the action before it even begins. The pace only quickens from there, fuelled by sex, jealousy and high-octane political intrigue. None of Puccini's other operas are so streamlined in their construction; only Tosca flows with the natural pulse of a taut police drama, consistently ratcheting up the tension.
In its use of motifs to express character and action, Tosca is Puccini's most modern work. Scarpia's motif is a perfect example—quick, intense, and unmistakable. Small wonder we feel we know these characters so intimately; then again, they may have been on the way to broad popularity before Puccini even started to compose. Sarah Bernhardt had already established the tempestuous, charismatic Tosca as an indelible character in Sardou's five-act play La Tosca. Looking back further, we can see the suavely sinister Scarpia's forebears in characters at least as early as Shakespeare's Iago and Richard III, whose sheer evil becomes strangely erotic; Henry Kissinger might well have been describing Scarpia when he called power the ultimate aphrodisiac. And sources as diverse as Vasari and Berlioz have given us the hunky artist: Strong yet sensitive, he's both a lover and a fighter. But without Puccini's swoon-inducing evocation of Cavaradossi's character in his arias "Recondita armonia" and "E lucevan le stelle," this archetype might never have become the ubiquitous modern hero that he is.
Tosca has been popular since its premiere, and remains near the top of most every list of favorite operas. Yet its success has not come without controversy. The first complaints from critics and fans sounded much like the discussions surrounding certain video games and television shows these days: too much sex and violence. Are they necessary or gratuitous, or even harmful? Are they artistically valid, or do they demean Puccini and opera as a whole? Most famous among the naysayers was the eminent American music critic Joseph Kerman, whose objections are famously associated with just three words: "shabby little shocker." This was Kerman's snide epithet for Tosca in his landmark book of 1956, Opera as Theater. And yet, though public opinion has repudiated Kerman's, we can well understand his reaction. This opera, combining glorious music with political backstabbing and undisguised lust, has far more in common with a modern drama like HBO's Succession than with the noble allegories that comprised earlier operas.
In characterizing Tosca's subject as inappropriate and too undignified for opera, Kerman added new energy to a debate that was already decades old: Were Puccini and his collaeagues—as exponents of Verismo opera—legitimate heirs of Italy's great operatic tradition? Verismo, or "real-life" operas, focus on common people rather than gods and aristocrats, and often explicitly include sex, gore and death. As a prime example of Verismo opera, Tosca had the power to shock and offend listeners more accustomed to the traditional operatic fare of centuries past. Puccini's earlier operas, while they could be classed as Verismo works, were less violent; even some of his admirers were unprepared for the intensity of Tosca, in which all three principals, along with the hero's noble friend, die violent deaths. But today, objections such as Kerman's seem quaint. Most other contemporary critics fell into line with one of Puccini's earliest and strongest advocates, George Bernard Shaw—among the first outside Italy to identify Puccini as Verdi's successor.
Besides, does Tosca really represent so profound a shift from the seemingly gentler scenario of La bohème, with its starving artists leading a carefree existence, charmingly entangled with their hardworking girlfriends? "…[B]oth are about the failure, or irrelevancy of art, in the face of greater power," notes Philip Kennecott in a 1994 essay for The Santa Fe Opera in which he delineates how broad social forces trump personal aspirations in both operas. In both, after all, death or the threat of death is a constant presence. In bohème, Kennecott notes, the violent social force is the natural destruction wrought by human illness and human nature; in Tosca we see power politics overcome human decency. Yet in Tosca, Puccini seems almost eager to confront us with art's inability to change outcomes in the modern world. More than in any of his other scenarios, this opera brings us to locations and even architectural settings that we know—places full of art, where we see its pathetic irrelevance in the face of war and political manipulation. Tosca's and Cavaradossi's lives are all about art, as is his death ("behold the artist," Tosca says, admiring his dramatic fall in the execution she thought was faked).
The qualified failure of his first two operas had taught Puccini that even a good story with a competent score could be foiled by a bad libretto. In his third attempt, the maestro's obsessiveness showed itself in both music and story, requiring no fewer than seven different writers (including himself) to finish the libretto. The result was a sensational success (Manon Lescaut), and two of that opera's writers—Giuseppe Giacosa and Luigi Illica—became the longtime collaborators who worked with him on Tosca. Like Verdi's Otello, its libretto is a masterpiece of concision based on a longer play with about five times as many lines of text as the opera.
We can hear Puccini's obsessiveness and dramatic flair in superlative, subtly layered craftsmanship that is often concealed beneath a surface of utter naturalness. The feelings of romantic ardor are convincingly real, but so are the sounds of the Roman Catholic church—the lonely church bells of Act III and the holy Te Deum in Act I. Puccini never forgot the lessons he had learned as the precocious child-organist at his local church (including how to improvise around the missing organ pipes he had sold for cigarette money). His treatment of these evocative details combines affection and anti-clerical sentiment; one of the most shocking moments in Tosca for contemporary audiences was the vile Scarpia soliloquizing about his sexual fantasies in church with a sacred procession making its way behind him.
A surprising point of controversy among some Tosca partisans arises from one of its principal strengths: its electric pace. Throughout the opera it ebbs only momentarily, and only to gather even more strength. The sole exception: Tosca's great aria, "Vissi d'arte." Inserted at a moment of tense confrontation between Tosca and Scarpia, it stops the action in Act II in a way that, according to doubters, breaks the opera's momentum. Even Puccini himself is said to have regretted including it. But for those who feel it belongs right where it is, this lament is more than just a radiantly beautiful aria that is the opera's single most performed excerpt; it is also indispensable as character development. With "Vissi d'arte," time stops at the climactic moment of Tosca's life, providing a window on our heroine's soul. And some listeners even hear her heart and respiration in the hushed, breathless orchestral introduction that precedes it.
For those who see Puccini drawing lessons for Tosca from Verdi's Otello, this aria is prime evidence. Like Desdemona's Ave Maria, it is a prayer that reveals the supplicant, sung just moments before a crucial death. Indeed, the final words of Tosca's appeal to God—literally, "why do You repay me this way"—have often been rendered as "why hast Thou forsaken me." Ultimately, the challenge of making the aria comfortably integral to Act II may lie with the director, who must credibly occupy Scarpia while Tosca is figuratively on her knees before him and before the Lord, with the stage action frozen in time. Does Scarpia hear her lament, or is he oblivious to it? Ultimately, the answer lies in your ears and your imagination.
---
---